About a month ago I did a small biography on Dummy Hoy which included a link to a documentary on the life of Dummy Hoy. I received several emails from Steven Sandy, a Dummy Hoy historian who appears in the documentary. Steven makes an appearance around the 15 minute mark. What follows is the correspondence that we had.   As I re-watched the documentary I noticed the golf shirt Steven was wearing, and now I have to figure out how I'm going to get one. Steven also included a link to a website devoted to Dummy Hoy, please check this out as well.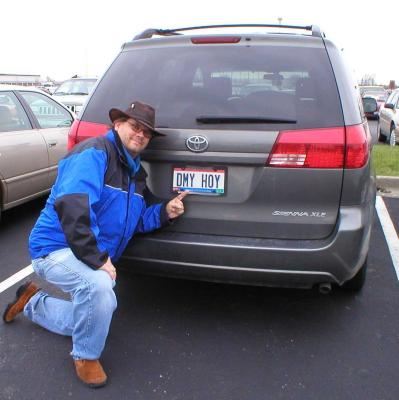 This is Steve Sandy showing off his personalized license plate. I'm not sure what the reference is??!!!!
William Ellsworth Hoy was born during the Civil War in a small town in
Ohio. He contracted meningitis at the age of 3, leaving him permanently
deaf. His parents sent him to the Ohio School for the Deaf when he was
10 years old. It was here that William learned sign language, a trade as
a cobbler, graduated valedictorian in his class; and got his 1st taste
of the game of baseball.
(Steve) I have located a teaching certificate that was owned by
Dummy Hoy's mother, Rebecca Hoffman Hoy which was dated in 1852 ten
years before Dummy Hoy's birth. The small town is called Houcktown and
that is in Hancock County. The capitol of Hancock county is Findlay. To
date the house where Dummy Hoy lived still stands today and the barn as
well.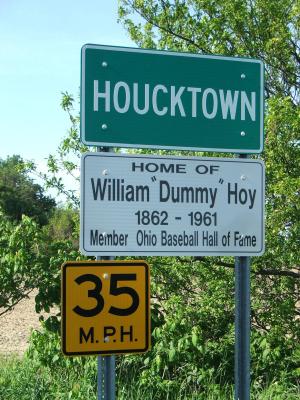 After graduation he got a job doing shoe repair, and began playing
baseball with the local teams. Despite being deaf, and small of stature(
he is listed as 5'4" or 5'6" and approx 150 lbs) he was spotted by a
scout, and after some tough financial wrangling from William, he
eventually ended up playing for Osh Kosh of the Northwestern League. It
was here he got the nickname Dummy, a name that he would fully embrace
the rest of his life, correcting anyone who would call him William.
(Steve) His education at the Ohio School for the Deaf was shoe
cobbler, and other subjects. He excelled in cobber and English (it was
flawlessly better than Shakespeare) I have quite a few of his notes and
was able to secure an orginal letter written by Dummy Hoy which was
dated in 1943.
Your best answer would be 5'4" to 5'5" but never higher than what you
just mentioned. There are no documents mentioned in 1800 to 1900 era
that ever mentioned he was ever 5'6" anywhere. His weight was considered
athletic and it was always within 145 to 150 lbs and never higher!
He was spotted by a scout yes, but his performance was remarkable while
playing with the Stonewall Jackson. Take a look at the documentary and
it holds true. His first pro attempt was with the Milwaukee Brewers but
it was short lived which the manager there didn't appreciated Dummy Hoy
till he showed them he could but he wouldn't be short paid form the team
and left home and then went to Oshkosh after the scout recommended.
The scout with three other men were rushing to Houcktown, only 3 men
stayed in Findlay hotel waiting till daylight but the scout knew of
Dummy Hoy and rush into the night to get to Houcktown and secured Dummy
Hoy's semi Pro team. As the other three scout lose the chance.
Correct, Dummy Hoy tells reporter to call him Dummy as always.

While batting, Dummy would have to turn to the umpire after every pitch
to determine whether a pitch was a ball or a strike. When the opposing
pitchers realized this, they began to quick pitch him causing him to
struggle with his hitting. Here is where legend and reality come
together. As far as I could determine he did eventually have the 3d base
coach signal to him after each pitch to let him know whether the pitch
was a ball or a strike. It has been written in many different sources
that Dummy eventually had the umpires start signaling with the current
hand gestures on whether a pitch was a ball or a strike, as well as the
safe and out call. But there are conflicting reports, with Dummy himself
never claiming this to be the case, so I tend to lean toward the
evolution of the umpiring hand gestures taking place without Dummy Hoy's
involvement.
(Steve) That was in 1887 after a year with Oshkosh as he started
in 1886. His batting average was .219, then in 1887 it rose to .365.
it's a 150% jump which is rare than rare it ever happened. But as a Deaf
historian, that is where and when hand signal started. That is a fact.
Too many written in many difference sources is that hearing reporters do
not have the chance or the time to write back and forth with Dummy Hoy.
That is called ignorance or audism in today's terms.
You have to be Deaf to understand the conception of the hand signals. 20
years of researches I have an understanding how it appeared.

The 1887 Oshkosh team
I checked 6-8 sources regarding the development of hand signals for
Dummy, all of which had a slightly different take on the matter.
Everything in baseball has a legendary quality to it, from Abner
Doubleday inventing the game, to Babe Ruth calling his shot. Sometimes
it's difficult, if not impossible to get the story straight. I'm sure
that Dummy Hoy would have had to had some influence on the evolution of
the signs in baseball.
(Steve) Everything I have would be factoid. Dummy Hoy does have a
large influence in the game, but he just doesn't know it. Every time Hoy
plays the game, the umpires use the signals just for him. But when Hoy
is not playing, its back to vocal mode. Keep in mind, its quite
impossible for any hearing person to know sign language unless someone
before had taught them or someone before. Yes, signs has been evolved
over the years. For example, early 1900 there are two hand-handle to
call the phone and that is kind of sign language they use in those days
with two hands. Now it's the thumb and pinky finger out reach and the
thumb points to the ear the pinky points to the mouth its call
telephone. You only can use one hand instead of 2. Now I just taught you
sign language as my school for the Deaf in Washington, D.C. taught me. I
am basically self-taught when I read the book, "Say It With Hands", by
Lou Fant, famed author for the Deaf. Even thou he is hearing but his
parents were Deaf. Get the ideal?
Either way, Dummy started to hit, and you combine that with his blazing
speed, and a rifle-like arm in the outfield and he eventually moved up
to the majors, making his debut with the Washington Nationals in 1888.
He played the entire season hitting .274 with 82 stolen bases. Dummy
spent one year in the Players League, and one year in the American
Association before returning to the National league, playing 2 years
with the Senators, 4 years with Reds, and 2 with the Louisville
Colonels. He played 1 season with the American League Chicago White Sox.
He was a member of their 1901 American League pennant winning team. Thus
the reason he was chosen for this biography. This would be Dummy's 4th
Major League that he would play for, making him one of only a handful of
players to do so.
(Steve) This kind of feat is quite rare for a man to jump at
different leagues. Much thanks would be Connie Mack. Teams would hire
Hoy when he had friend and teamed with Connie Mack.  A name that anyone
would hire or sign with the team.

He would play 1 final season in Cincinnati in 1902, and would finish his
career with a .288 average, 2048 hits, 1429 runs and 596 stolen bases.
Dummy would hit everywhere he went, hitting .290 or better in 9 of his
14 seasons. He would score over 100 runs in a season 9x.
Defensively he used his speed and arm to become one of the better
outfielders in the late 19th Century. He would retire at or near the top
in games played in the outfield, chances, putouts, and assists. On June
19, 1889 Dummy threw out 3 base runners at the plate from centerfield, a
feat that has never been topped. His catcher that day was a guy named
Connie Mack.
In his last season with the Reds he batted against Luther"Dummy" Taylor
of the Giants and got 2 hits, The significance of this match-up is that
it is the only time 2 deaf players ever faced each other in a major
league game.
(Steve) But Dummy Taylor couldn't strike Dummy Hoy out and Dummy
Hoy couldn't steal a base from Dummy Taylor, call this an equal prowess
that no one ever notice this. Now the next question, what was the score
between New York Giants and Cincinnati Reds in 1902 Dummy vs Dummy day?
Ask and ye shall received.
I had never heard of the match up of Dummy Hoy vs Dummy Taylor before I
started doing the research. It's a nice little story. I read a fictional
story: Havana Heat by Darryl Brock that is centered around Dummy Taylor
and his trip to Cuba with the NY Giants in 1911. If you haven't read it,
I think you might enjoy it.
(Steve) I have heard of the Havana Heat by Darryl Brock, we have
communicated via email way back.
I do not know the final score of that game.
(Steve) Cincinnati was leading 3-2 when Taylor was pitching, then
he gotten tired and was replaced by a southpaw then the final score was
5-3 Giants winning the game.
After being released by the Reds in 1902, Dummy played one season in the
Pacific Coast League. At the age of 41 he would play in all 212 games
that season, helping the Los Angeles Loo Loos to the league title.
(Steve) You need to be more careful, where did you find out about
212 games played? Also it was Los Angeles Angels

Dummy played 212 games in the Pacific coast league in 1903. The Pacific
Coast League had a long season! I don't recall the source I used, but I
distinctly remember the team listed as the Loo Loos. Early team nick
names were not etched in stone as they are today. The Loo Loos were
probably also called the Angels, as well as a couple of other names
before the Angels moniker stuck.
(Steve) in every book I have read everyone of them stated 211
games. The only proof I found of 212 was one of Hoy's letters he wrote
before he pass away when he communicated with Mr. Joseph "Mr. Buffalo"
Overfield. We had communicated via snail mail and he had made copies of
the letters he communicated with Dummy Hoy. He (Mr. Buffalo) was the one
who corrected the story about Dummy Hoy's 3 outs in a game from the
Centerfield  to Home plate while all the other reporters and historian
didn't get the facts straight. That 3 out in a game remain undefeated
and unmatched by anyone in the 19th Century. 3 players has achieved that
feat in the 20th century but again, I am quite sure they are over the
height of Dummy Hoy. So therefore the feat remain undefeated in all
games. What's more, it was gloveless. I am sure that players in today's
game cannot achieved that feat ever!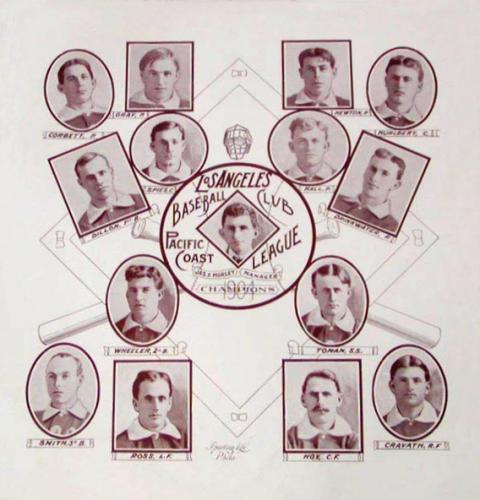 Upon retiring he would run a dairy farm with his wife Anna Maria for 20
years. He would have 3 children, Carson, Carmen and Clover.
(Steve) How did you know he had three children? Was there any more
children there after?
The children listed were the 3 that survived infancy. I believe he had 2
that died at birth, and another that died shortly after birth. A far too
common occurrence back then.
(Steve) Correct, three children survived infancy and had children
thereafter. Actually 2 died in still born. One died after birth and one
died few days later. One died 2 years later due to Spanish Influenza in
the 1910′s. What's more, all the children's name were all "C". Carson,
Carmen, Clover, Castle, Custer, Cosmos. (Cosmos is a great name!!!)
He would be enshrined in the American Athletic Association of the Deaf
Hall of Fame in 1951, as well as the Cincinnati Reds Hall of Fame in
2003.
(Steve) Dummy Hoy was first to be inducted in the American
Athletic Associate of the Deaf, but who was the second to be inducted?

I have no idea who was elected 2nd in the  American Athletic Associate
of the Deaf, but if I had to guess it would be Dummy Taylor
(Steve) Correct – Dummy Taylor was the 2nd person to be inducted in the AAAD.
Lucky guess, amigo!
In 1961 he would be invited by the Reds to throw out the 1st pitch of
the 3rd game of the World Series against the Yankees. He would get sick
shortly after that and would die just 6 months shy of his 100th
birthday.
(Steve) Why was Dummy Hoy invited to throw at the third game
instead of the 1st game? Dunno the answer, inquire with me. Who was the
guest who threw the first pitch of the 1961 World Series?

Dummy threw out the 1st pitch in game 3 of the 1961 World Series because
it was the 1st game played in Cincinnati. I do not know who did it in
game 1.
(Steve) Dummy Hoy was invited to throw out the first pitch of the
world series but he declined, 2nd game, again invited, he declined, then
the third game, he accepted. He was further asked by a reporter why
declined first 2 games and accepted the 3rd game, he stated, too crowd.
Joe DiMaggio threw the first pitch of the 1st game of the 1961 World
Series.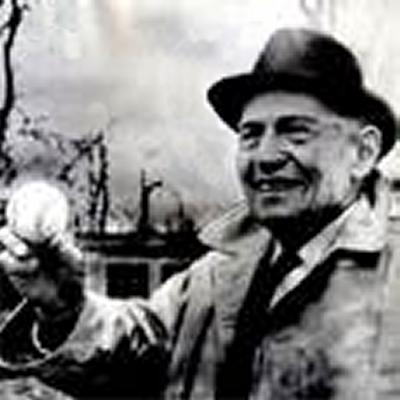 This small biography does not come close to telling everything there is
to know about Dummy Hoy. I recommend checking out his website, as well
as this 50 minute documentary to get a better understanding of not only
the ball player but the life of an incredible human being.
(Steve) You only have to see the collection and research all about
Dummy Hoy that I have collected. Whats more there is a project plan on
creating a feature film on Dummy Hoy, "The Legend of Dummy Hoy".
Thank you for taking the time to send me this email, I greatly
appreciate it.
I might mention this letter in a future blog post, could you let me know
your full name, and any other pertinent information that you might care
to share.
(Steve) Gladly! – My name is Steve Sandy reside in Columbus, Ohio,
Historian, Researcher Consultant, Associate Producer, and Co-Writer.
An attachment 1892.1.jpg. I hope you can read it, but do enlarge it and
you would be able to understand what was said.
"Isn't Hoy Right" is an article mentioned by Dummy Hoy. Its worthy to
read it.
Had you the chance to see the "Dummy Hoy: A Deaf Hero" documentary? If
you see the fellow with the Cincinnati Reds cap, golden frame glasses
with red shirt with stuff on the table and pie safe behind, that's me.
Naturally I have put in a few pounds, grown beard and changed glasses.
Anything else, just say the word.